Did you know that 36% of professionals want to get paid in crypto? In fact, among Generation Z (i.e. people under 25 years of age), 47% are estimated to already own cryptocurrencies, making them more commonly held than even mutual fund investments!
However, with how volatile and unpredictable cryptocurrency markets can be, getting paid entirely in digital assets isn't always feasible, especially for contract workers, and putting such high-risk assets on the company's books turns many businesses away.
Binamite makes it simple for both projects and the contractors they employ to do business in digital assets. If your employees have asked for it, or you want to sweeten the deal by offering crypto salaries to attract a young workforce; whether you're looking to pay entirely in crypto, or don't want to touch the stuff, get to know here what Binamite is and how does Binamite work:
What is Binamite?
Binamite is the all-flexible crypto-fiat payment solution. Payers can use their crypto reserves to pay freelancers/employees fiat in any local currency. The payees can choose to receive the entire payment in any mix of crypto and fiat.
As a Binamite user, you can:
Pay using fiat or your crypto reserves for products and services, and the payee receives the payment in fiat, crypto or a mix of both!
Forget the hassle of liquidating, offramping and transferring funds to beneficiaries. Checkout with a single click on the invoice delivered to you via email and Binamite dashboard.
Manage your payroll from our dashboard and never miss an invoice.
Give your payees an edge giving them the option to receive payment in their desired mix of crypto and fiat.
Track all crypto assets earmarked for payments directly from your Binamite wallet.
Why should you use Binamite? 
You do not have to understand crypto! "Technical," "complicated," and "risky" are some of the most common phrases heard among people that haven't dived into the world of digital assets. If you're one of them, Binamite lets you honor your crypto invoices using the most popular fiat payment methods available, including direct bank transfers, credit cards, automated clearing house (ACH), and more!
Stay compliant – The laws surrounding crypto are still evolving, and in some cases, they're undefined and even repressive. With Binamite, you can pay in crypto without ever having to own any, leaving the taxman out of your hair and keeping your business compliant.
Automated tracking of your invoices by date and employee so you don't have to worry about cryptocurrency payroll management and to-do lists. Simply log in and pay!
Save money – crypto payments are cheaper, especially if you wish to hire talent from outside your country. Ernst and Young observe that With cryptocurrency payments, international payment costs were reduced by 68.9% – 80%.
If we have you excited about onboarding the crypto bandwagon, continue reading to understand how to navigate Binamite. Feel free to skip and directly access our user-friendly interface on https://www.binamite.com/ if you like figuring things out yourself.
How to Pay in Crypto Using Binamite? 
After logging in, you need to enter the application as a "Client".

Here, you need to enter details about yourself or your organization, if any. The details include:
Name – this will be the name that will be invoiced.
Tax ID, VAT or EIN – these are important to complete your enrollment. If you have registered as a business, or a taxpayer in your country, you already have them. If you do not have them yet, select "No" and move forward.
Company Details – the address, city, country and postal code.
Please ensure that you have this information handy while signing up. While you can proceed without it, you will have a much easier time with compliance if your legal details are present and accurate.
That's it; you're done onboarding Binamite! You must see a dashboard that contains all the information about your activity, freelancers, invoices and your wallet balance.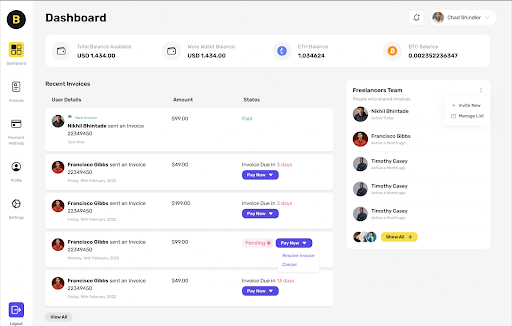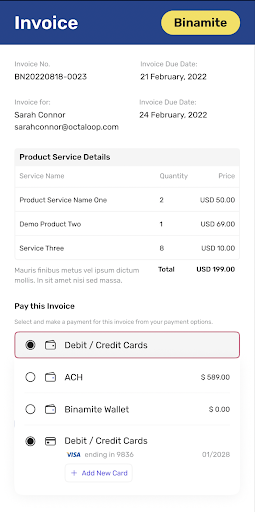 On the left bar of your dashboard, you can use the tabs to navigate and access all of Binamite's features.
Your pending invoices are visible both on your dashboard and the invoices tab will have a "Pay Now" option which allows you to complete the payment in a few steps.
As you can see, the invoice contains Payee details and Product Service details. Review them and use any of the given payment options to pay your workers.
A drop down to the "Pay Now" option also allows you to "Resolve" or "Cancel" invoices. These can be used if there are discrepancies in the worker-generated invoice or if the transaction is cancelled altogether, respectively.
One can download invoices from the invoices tab for perusal if needed.
Next is the payment methods tab, which allows you to manage your balances on your Binamite wallet, and use credit/debit and crypto for payments.
These payments can be made directly at the time of check out of each invoice, or you can update your Binamite wallet balance to make cryptocurrency payments.
Lastly, ensure you have secured your account and funds by setting up a "Two Factor Authentication" method on the settings page. Beware that Binamite will never ask for your password, 2FA or private keys.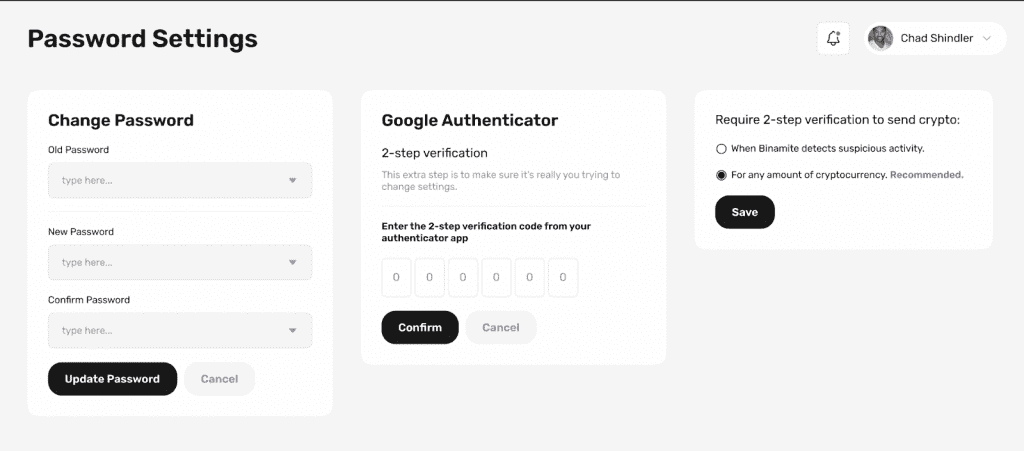 Pay in Crypto Using Binamite 
Now that you know how to navigate the easy Binamite waters, you can leave all your payroll, compliance and means of payments issues to us while focusing on what you do best. We not only ensure that you save money and effort while employing, but that your employees are happy with timely paid salaries in a ratio of assets they choose. After all, motivated workers maketh a good business! Head to https://www.binamite.com/ now.