Studying abroad offers all kinds of opportunities for personal growth and academic excellence. However, one of the biggest challenges faced by international students is the complexity and cost of cross-border payments. Parents often struggle to send tuition fees and living expenses to their children studying overseas, being forced to deal with lengthy processing times and expensive fees.
The demand for streamlined student-focused cross-border payment solutions has been on the rise in recent years. Traditional banks often take weeks to process payments, causing unnecessary stress and potentially jeopardizing a student's admission. Additionally, since banks impose restrictions on foreign exchange payments, international money transfers can be an absolute nightmare in regions like Nigeria, South Africa, and India.
Existing cross-border payment solutions are fraught with challenges for students, with lengthy processing times resulting in missed deadlines and lost opportunities. Additionally, high transaction fees and unfavorable bank exchange rates place additional financial strain on families, and the lack of student-tailored solutions only exacerbates the challenge of managing finances while studying abroad.
International Student Remittance Using Blockchain
Binamite is a new-age payments platform that leverages blockchain to simplify cross-border payments for international students. The word 'blockchain' instills fear these days, especially with the amount of fraud taking place in the industry. However, Binamite never exposes you to any cryptocurrencies without explicit consent. It simply uses blockchain networks to transfer your funds to your child's bank account.
To learn more about Binamite and how we use blockchain to facilitate payments, check out our article on global payments systems here.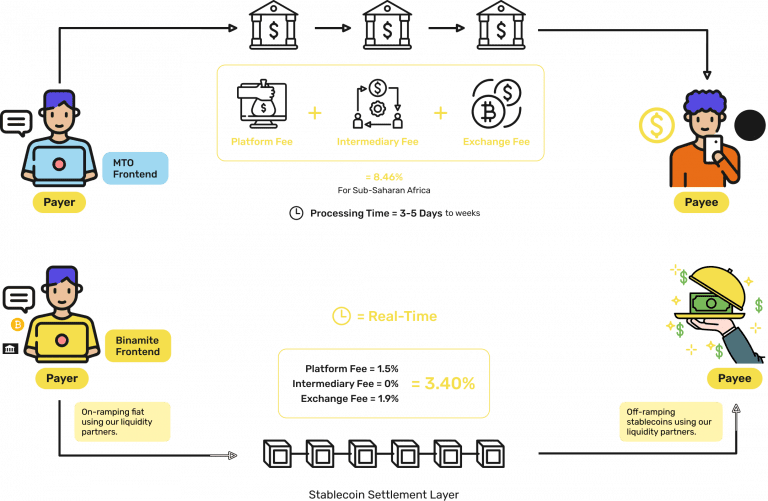 By outsourcing our international payments ecosystem to a decentralized network, Binamite ensures that transactions are settled in minutes at highly competitive rates. This approach eliminates the need for intermediaries and subverts the traditional banking systems, resulting in significant cost savings for students and their families.
Student Money Transfers: The Binamite Advantage
Binamite gives students an efficient, user-friendly platform to receive payments from their parents and sponsors overseas. Whether it's paying tuition fees, application fees, SEVIS fees, WES fees, or sending deposits to foreign universities and agencies, Binamite offers a seamless payment experience.
With a transaction process that takes minutes, students can save time and focus on their studies without the hassle of complicated payment procedures. Need more reasons to sign up for free?
Pricing
Unlike traditional payments networks with steep overheads, Binamite requires minimal infrastructure to keep things running. All transfers take place on the blockchain, and our global network of on and off-ramps helps us facilitate cheap payments from anywhere to anywhere in minutes.
Convenience
Binamite simplifies the payment process for students and their families, making international transfers a seamless and stress-free ordeal. With Binamite, say goodbye to complex paperwork and multiple intermediaries. In just a few clicks, funds are securely transferred across borders, saving valuable time at the lowest rates!
Flexibility
Binamite offers flexibility in payment options, allowing users to choose their preferred currency and settlement method. This is especially useful since it allows sponsors to send money in their local currency, while ensuring funds arrive in the student's local bank account. This also gives students immediate access to the received funds in a way that's convenient and cost-effective for everyone involved.
Support
Besides offering a streamlined payment process and cost-saving features, Binamite prides itself on providing excellent customer support, making it a standout choice for international students. Binamite understands the unique needs and concerns of students and their families, so whether it's answering inquiries, resolving issues, or providing guidance throughout the payment process, Binamite's dedicated support team is always ready to assist.
Why Compromise?
Binamite is making cross-border payments convenient and accessible to all, especially international students. By leveraging blockchain technology and decentralized networks, Binamite offers a simplified, cost-effective, and efficient solution for student money transfers.
Its user-friendly platform, competitive rates, and fast transaction processing times enable parents to support their children's education abroad without the unnecessary complexities and financial burdens associated with the traditional banking system. In an era of rapidly advancing technology, Binamite stands out as a prime example of tailored financial solutions for international payments, empowering students to focus on their education, and unlocking their true potential on the global stage.