International money transfers to Nigeria accounts for the largest remittance toward African countries from the UK. Sending money to Naira bank accounts was halted by the Central Bank of Nigeria(CBN) to deepen forex liquidity. But, as with most command and control approaches, a parallel economy for GBP-NGN emerged with a high spread between the official and market rates.
Virtual assets like USD-backed stablecoins are trading as per free market forces reflecting higher parallel market rates. The CBN, in its 'Nigeria Payment System Vision 2025', has recognized the potential of stablecoins to address the dual goal of deepening forex and digitizing payments.
Challenges in sending money to Nigeria
Direct transfers to Naira bank accounts are not possible. Airtime top-ups and USD deposits currently being offered have less utility compared to NGN transfers.
No fixed conversion rate due to unofficial GBP-NGN rates being used for exchange between British pounds and Naira.
Longer settlement times are common due to underdeveloped international banking infrastructure.
Most money transfer services lack tracking ability and transparency for fees and time.
Stablecoins for Money Transfer
Stablecoin is a virtual asset that derives its value from an underlying asset. The most widespread are US dollar stablecoins, where real dollar or USD-denominated derivatives back each dollar coin in the issuing company's treasury.
Read more on how Binamite uses stablecoins to transform international remittances
| | |
| --- | --- |
| Benefits | Problems |
| 1. Near zero transfer cost and time | 1. Uncertainty about reserves in treasury and potential depeg risk. |
| 2. Stable value throughout the transfer journey | 2. Tedious to use for payments |
Advantages and disadvantages of stablecoin money transfer
At Binamite, we manage stablecoin transactions on your behalf, shielding you from potential risks while allowing you to enjoy all the benefits. So you never expose yourself to the cons and enjoy the benefits of stablecoins with a simple user interface.
Binamite blends the best of both to bring blazing-fast international money transfers for small vendors, freelancers, and families of citizens abroad, at the rates they deserve.
Send money from the UK to Nigeria with these simple steps on Binamite
| | | |
| --- | --- | --- |
| 1. Choose your source and destination currency amounts | 2. Check the prevailing rates of the transaction and proceed. | 3. Enter your basic information and recipient bank details. |
| 4. Proceed to the one-time instant verification widget. | 5. After verification, pay the chosen amount, and you're done. | 6. Woosh, money is teleported! |
Steps to send money using Binamite
Why should you choose Binamite to send money from the UK to Nigeria?
Binamite is a novel money transfer platform that integrates the best of blockchain and local currency to complete transactions between parties. We use stablecoins to move money across borders in seconds, and the beneficiary receives the equivalent funds in local currency just as they would in the traditional world.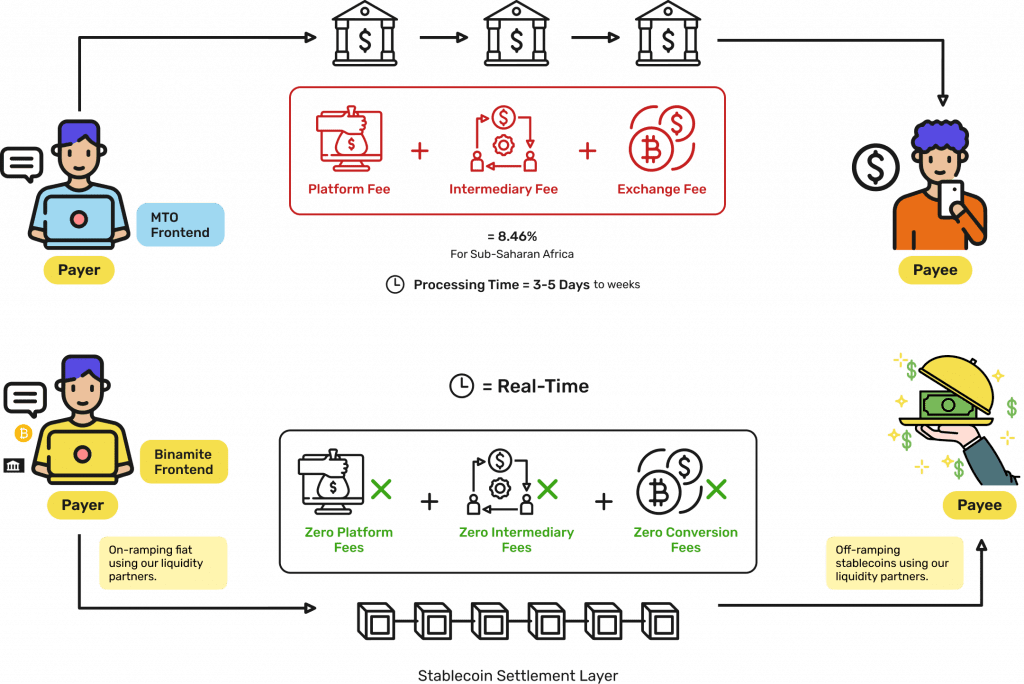 Instant Settlements


Because blockchains are faster than banks

Track Your Money


See where your funds are, and get notified at every step
Secure
A FinCEN-regulated Money Service Business

Cheap & Easy


Know what you pay before you pay


Fraud Protection


Robust risk engines and compliance teams to keep your funds safe
Bankfree
Get money in your bank without relying on bank networks
Six reasons to choose Binamite
Disclaimer: Binamite uses a stable virtual asset-based settlement layer to complete customer transactions. Users send money using a traditional interface but a new infrastructure.
---
FAQs
How does Binamite transfer funds?
We purchase and sell stablecoins for the transacting parties in their respective local currencies to move funds efficiently and complete the transfer.
How long does it take for funds to be transferred?
We strive for seconds, often complete in minutes, but within 3 hours is what we guarantee.
How will the recipient receive their money?
By not doing anything! The sender fills in all the beneficiary details, and they will be notified on the given email ID at every step of the fund journey.
What documents and details are needed to send funds?
Requirements vary with the sending currency. However, the beneficiary's bank account details, email address, and the sender's phone and national identity are generally needed.
Do I need to KYC?
The sender must complete a one-time instant verification, after which they can transfer funds worldwide. The recipients sit back and receive their funds!
What are the benefits of signing up on Binamite to send and receive funds?
Plenty! You get better rates and customer service, along with wider payment options and records of your transactions.
---