Binamite is a crypto payment solution that alleviates the often recognised pain of receiving payment in cryptocurrencies and/or fiat. It allows the contractor/freelancer to receive money in both, while the sender may use bank transfer, credit card or any other form of payment! Our endeavor is to provide everybody the opportunity to use the novel features of blockchain, but also maintain stability in personal cash flow and expenditures while doing so.
If you are a contractor or freelancer taking jobs on Discord, Twitter or Fiverr, here are the benefits of crypto payments and why you need to get Binamite:
Manage all your payments from one dashboard.
Get paid in any crypto currency, stablecoin or fiat, regardless of how the employer chooses to pay. No double coincidence of wants!
Build a portfolio! Roughly 300 million people are investing in crypto, you can too. Increase crypto holdings with each paycheck, dollar cost averaged automatically as per your preferences.
Simple withdrawal for fiat into a bank account and crypto into your own wallet. While we host funds on your secure Binamite wallet, we'll be happy if you want control over your assets.
Build trust with regular payers by whitelisting addresses and user friendly invoices that are customized to every client, within a few clicks.
All you need to take your gigs to the next level is start by signing up on Binamite, or simply signing in with your Google. You will receive a one time password on your email, and you're ready to take Binamite for a spin!
Did you know: You can receive Bitcoin payments on crypto currency exchanges! However, with Binamite you create crypto currency invoices and withdraw payment to your bank in a jiffy!
How to Send Cryptocurrency Invoice? 
After logging in, you need to enter the application as a "Professional".

Here, you need to enter details about yourself or your organization, if any. The details include:
Name – please ensure you enter the name with which the bank account is registered.
Tax ID, VAT or EIN – these are important to complete your enrollment. If you have registered as a business, or a taxpayer in your country, you already have them. If you do not have them yet, select "No" and move forward.
Currency – this is the base currency that you accept for fiat and your wallet will be denominated in it.
Personal Details – your address, city, country and postal code.
That's it, you're done onboarding Binamite. You must see a dashboard that contains all the information about your activity, clients, recent invoices and your wallet balance. You can start to accept crypto currency payments!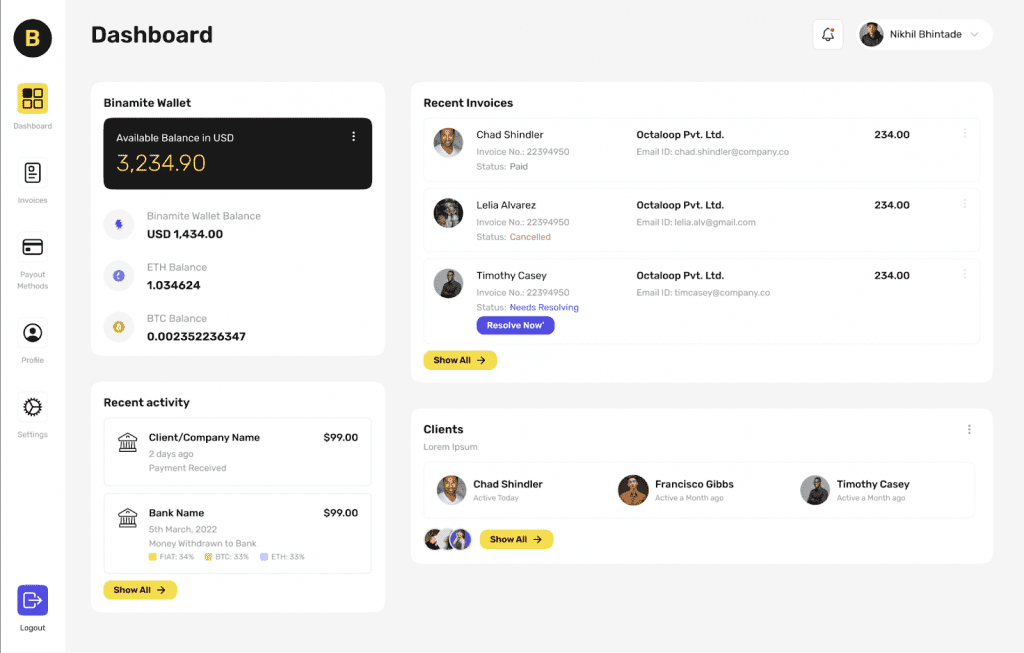 On the left bar of your dashboard, you can use the tabs to navigate and access all of Binamite's features. Let's see how to create a crypto invoice.
How to Create Cryptocurrency Invoice?
On Binamite, click on "Invoices" to get started on your first payment. Here, you will find all your recent and past invoices alongwith with a "Create New" button. This allows you to create new invoices for the ongoing or future gigs.
On the new invoice pop up, you can select from the whitelisted clients' list to autofill their details, or you can manually enter them.
This is followed by your "Product Service Details", the per unit price and the quantity of it delivered. This automatically calculates the payment burden on the client. You can also add multiple entries if you provide more than one service within the same invoice. Use the "+" button on the right hand side of the service details.
Payment Details: This is where you get to choose how you wish to receive the fiat value of payment. You can set the proportions as per your choice, enter the due date. Review and send the invoice on the pop up, and you have an invoice ready to be honored. Your employer is ready to make Bitcoin payments without owning one!
Now that you have created your invoice, you can track them on the "Invoice" tab. When the due date is approaching, you can send reminders to the employee for the same.
After you've been paid, navigate to the payout method to withdraw your funds either into your crypto wallet or bank account.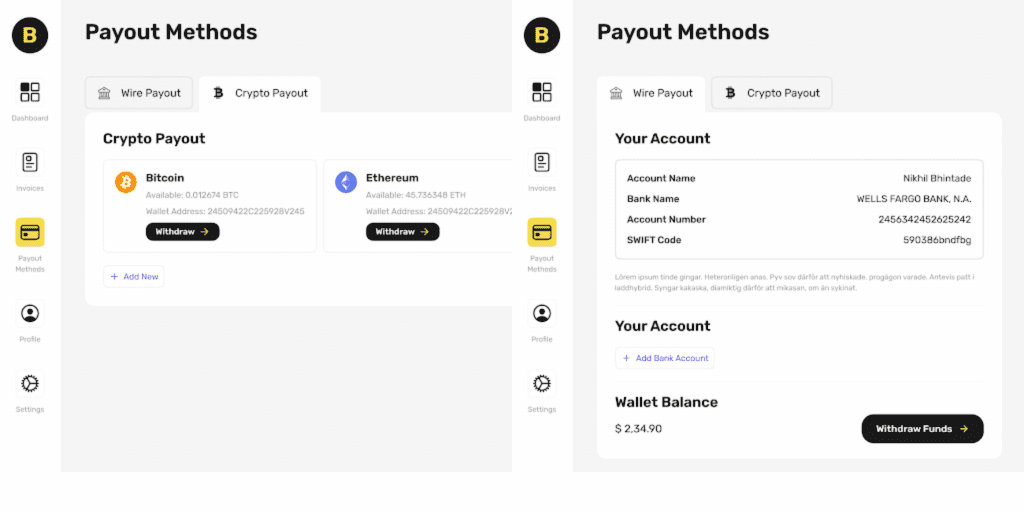 For this you must add your bank account details and wallet address to ensure hassle free and quick payout every time.
The "Wire Payout" tab takes your money to your bank account, while the "Crypto Payout" will take the salary you received in crypto to your personal wallet, if you wish.
Lastly, make sure that you have secured your account and funds by setting up a "Two Factor Authentication" method on the settings page. Beware that Binamite will never ask for your password, 2FA or private keys.
Create and Send Cryptocurrency Invoice with Binamite
Now that you are up to speed on why and how to use Binamite, we would like you to upgrade from your bank and exchange for a seamless experience across both! Don't worry if you are still cloudy about something. Our application is well optimized for user experience, and you will get an intuitive idea once you are on https://www.binamite.com/!