Freelancing is often regarded as a way out of the much common 9-5 Job, which for many is mundane, rigid, and often subjected to unfavorable politics. It is often regarded as interesting, free, and of its own command. But "Freeing work" also comes with its own set of discomfort.
Being your own boss is more difficult than many think, as it forces all the responsibilities on a single person. The most important of which is getting paid on time.
Since there isn't an accounts department (At least at the beginning), a freelancer must study the available payment modes and shortlist the best. This article will focus on educating freelancers on the best and cheapest ways of getting paid on time. The article is divided into three essential components.
The Problems of Existing Payment Methods
Existing Payment Solutions – Fees, Transaction Time & Others
Crypto Payments To The Rescue – With Added Goodness of Binamite
The Problems of Existing Payment Methods:
Freelancing has proven to provide more than a general 9-5 job, which is why many are diverting toward this side hustle, which might turn to a full-time business.
---
Did you know:
There are more than 58 Million freelancers in the USA, projected to grow to 87 Million by 2027.

Google's workforce has more freelancers than permanent employees.

A US-based freelancer earns near about $68K annually through freelancing.
---
However, freelancing comes with its own set of problems, the biggest of which is not getting paid. According to a report by Globe News Wire, 59% of freelancers are owed $50,000 or more by late-paying clients.
Some of the reasons why freelancers don't get paid are,
1. Client and freelancer need to agree upon a common payment method.
Generally, it is advised for a freelancer to iron out all the details of the deal in a contract, including the payment mode. The freelancer should check if the preferred payment mode is operational in the client's country and if the client is ok with the preferred payment method.
For example, Stripe, a well-known payment provider, isn't open for individual use in India. This has restricted many promising bloggers from getting paid by Medium. Similarly, many apps have been banned in China, and hence the transactions do not go through them.
2. Fees charged by the payment service providers
This is the biggest pain point for both the client and the freelancers. Many payment gateways charge on a percentage basis which could lead to a considerable loss in big fund projects. Additionally, many incorporate a base currency-to-currency conversion rate instead of the real-time conversion rate.
These base conversion rates are pre-determined and written in the user agreement, which many of us don't bother to read. This leads to a loss of potential upside, and the freelancer might get less in the account than what google calculated.

As you can see above, the transfer value is 1,25,768.22 Rs. However, due to the charges of the payment provider, there is a significant loss of revenue.
3. Invoicing software costs a lot, with the majority costing $21-$30.
Many professional freelancers opt for invoice software to maintain professionalism in their work. It creates authenticity in the eyes of the client and instills trust in the freelancers. It also allows all the work and its payments to be documented clearly, which helps freelancers during tax filing.
Multiple invoicing software does the job for free. However, they aren't integrated with the payment software and thus create an extra obstacle for the users. Moreover, some are expensive for the features they provide, leading new freelancers to think twice before spending such money. If only there were a way to generate an invoice within the payment software and for free. (P.S. There is one. Stay tuned!)
4. International transaction takes 2+ days for settlement.
This might not be a deal breaker, but it can be off-putting. Freelancers aren't just getting their payment late but are investing 2+ days' worth of time to get funds for a completed job. So for a monthly transaction, a freelancer invests 24 days, only to get what they are owed. Navin Gupta (Managing director of the South Asia and Mena region for Ripple) explains it in this video very nicely.
(P.S. 2 Days is a very generous time delay. The transaction might even take 5 days, depending upon the country of origin and mode of payment)
5. Payment mode limitations
As represented in the table below, every payment method has its own limitations. In addition, due to government sanctions, various rules and regulations prevent transactions across certain countries. These regulations greatly reduce the market for freelancers and hence limit earning opportunities.
Also, some payment methods accept limited currencies and hence don't grant flexibility to the client and freelancer.
6. Security
There have been instances where transactions have been intercepted by 3rd parties, leading to transaction failure. Moreover, there has been an increase in frauds and scams, leading to a rise in everyday Captcha, 2-Factor Authentication, OTP Verification, etc.
Existing Payment Solutions – Fees, Transaction Time & Others
Some of the most well-known payment applications for freelancers are listed below,
| | | | | | | |
| --- | --- | --- | --- | --- | --- | --- |
| Payment Provider | Transaction Fees | Countries | Currencies | Payment Method | Transfer Limit | Processing Time |
| PayPal | $0.30 for each US transaction . 2.9% of the amount you receive from the US 4.4% for each non-US transaction fixed fee percentage depending on the country | Available in over 200 countries | 26 currencies | Bank transfer, PayPal Debit Mastercard Requesting a check | Upto $10,000 per transaction | 3-5 Business Days |
| Payoneer | $2.99 for local bank transfer, or $15 for USD SWIFT transfer $4 or 1% of the amount you receive for USD and EUR transfers (fees cannot exceed $10) | Available in over 200 countries | 150+ currencies | Bank Transfer, MasterCard local eWallets, international checks | up to $5000 per day | 3-5 Business Days |
| Square Cash App | No fee. for standard 1-3 business days deposits 1% if you use the immediate "Cash out transfer option | US (but not US territories such as American Samoa, Puerto Rico, and Guam). Japan, Canada Australia and the United Kingdom | The country of your account determines your currency, and cannot be altered (for a new currency. you'll need to open a new account). | Debit Visa card, Bank Transfer | – | immediate transfer, or 1-3 business days |
| Venmo | 1% of the transferred amount (for the Instant transfer option) with the withdrawal limit of $0.25 $10 3% fee every time you fund your account Bank transfers are free but take longer (unless you're using a specific Visa or Mastercards Debit card for a faster, 30-minute cash-out which costs $0.25 per transfer) | United States | USD $ | Credit Card, Debit Card. a Checking account | $3,000 per week | instant, or up to 3 business days |
| QuickBook Payments | The monthly payment plan costs $16 per month transaction fees of $1.00 per ACH transfer, but there's also: 1.5% + $0.25 per swiped card transaction 2.9% + $0.25 per digital invoice card transaction 3.4% . $0.25 per keyed-in card transaction | Available in over 200 countries | Available in 150+ currencies | Credit Card. Debit Card. ACH Bank Transfer | Varies on Processing Volume | 1-7 business days |
| Google Pay | No fee for Debit Cards and Bank transfers A 2.9% fee for Credit cards | Available in 30+ Countries | Available in 10+ Currencies | Debit card, Credit Card. Bank transfer, PayPal | Up to $9,999 per transaction (or up to $3,000 for Florida residents every 24 hours) In order to claim transactions that are over $2,500. you'll need to have a bank account connected to your Google Pay account | up to 10 business days |
| Stripe | If your business receives under $1 million per year, you pay 2.9% . $0.30 per transaction | Available in 20+ Countries | Available in 135+ currencies | Credit Card. Debit Card. Bank Transfer | You schedule your money transfer dates to process automatically, with no official limit to the amount that can be transferred (the technical limit within the app is 999,999.99 regardless of the currency) | 5-10 business days |
Payment Method Comparison Chart
As seen above, the transactions generally take 3-5 days. Moreover, the combined effect of exchange rate and transaction fees on top of platform fees (if any) could mean a significant loss of revenue.
Along with the above, many payment gateways have restrictions imposed on them by government regulations. These regulations steal the market from freelancers, restricting them from going global. Also, the limited currency compatibility of the payment gateways obstructs payments in the preferred choice of currency.
To solve the problems mentioned above, many freelancers have shifted or are considering a shift to the much faster and cheaper alternative of cryptocurrency payments.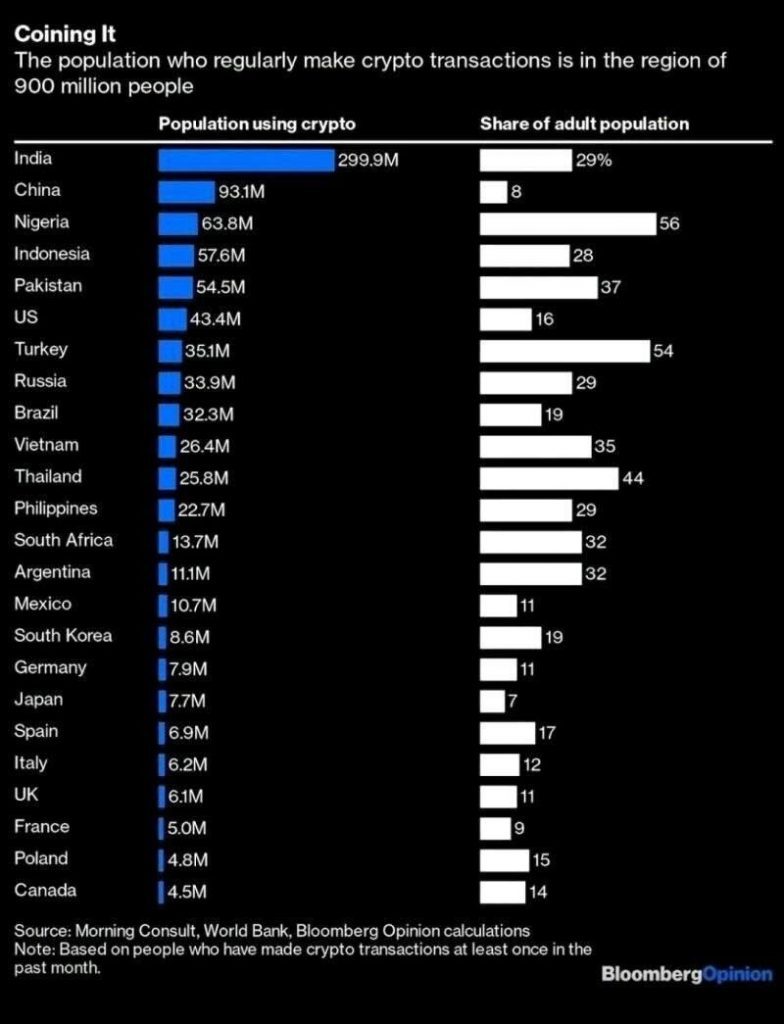 Population Conducting Crypto Transactions Globally.
---
Did You Know?

38% of gig workers could consider earning in crypto, while 50% are comfortable with making a portion of their pay in digital assets, according to the study published by digital asset management firm Bakkt on July 27, 2022
---
Crypto Payments To The Rescue –  With Added Goodness of Binamite
Unlike traditional payments, crypto payments require little to no intermediaries to conduct a transaction. Also, since the infrastructure supporting the trade is a completely self-sufficient code, it doesn't need any kind of human resource to manage/maintain the transactions. Thus, there is no cost; hence, crypto payments are charge free in the truest sense.
Also, as mentioned above, traditional payment apps do not accept some currencies. However, crypto payments remove these restrictions and open the world to trade services for freelancers.
This ease and flexibility are why crypto adoption is increasing globally. However, conducting the transaction by directly connecting with the chain requires the technical know-how of wallets, blockchain, and working protocols. As a result, it is often regarded as a complex mechanism to understand, and hence many people tend to be distant from it.
As an easy-access solution to it, we created Binamite, the best payment method for freelancers. Binamite disconnects the users from the complex working of blockchain transactions and presents them with a clean dashboard with essential good-to-have features making the trade easier than ever.
We at Binamite aim to,
1. Increase the market for freelancers to all the non-sanctioned countries
2. Provide worldwide payments at the lowest cost.
3. Be one stop solution for business payroll with both crypto and FIAT based payments.
Features of Binamite: Freelancers' Choice For Crypto Payments
Binamite is a payroll management tool that allows users to sign-up for free freelancer/client accounts with the easiest google sign-up. Users don't have to go through the hassle of learning separate sign-in credentials and, worst of all – 16 worded seed phrases to conduct a transaction. We follow all the rules and regulations of the government, and hence users will be prompted to fill out a 2 min KYC form before conducting a transaction.
With Binamite, users can create & send an invoice within the software via email for free. Since we believe in providing maximum control to the users, we allow the users to program the invoice with the currency of choice. This flexibility enables the freelancer to get paid in Crypto, FIAT, or both in any ratio of choice, irrespective of the currency of payment,
For example,
A user can program the invoice sent to the client to convert the incoming transaction into Crypto (BTC/ETH/USDC), FIAT (USD), or both in any ratio (e.g., 50%BTC, 25% ETH, 25% USD).
So a client from Japan can conduct the transaction in Yen, and the freelancers will receive the transaction in the above-mentioned mix.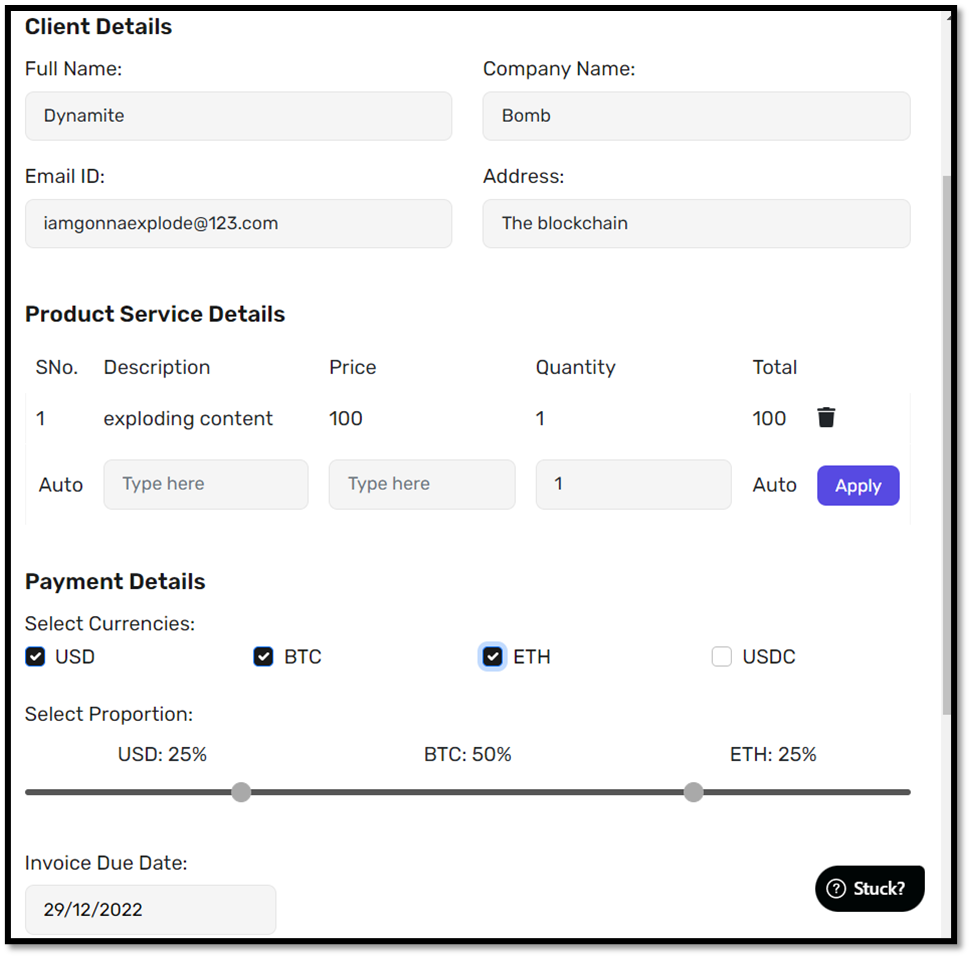 Binamite Freelancer Invoice Generating Tool.
The client can associate with a wider pool of workers and business partners since they don't need to worry about the currency for the payments. Binamite automatically converts the client's currency to the freelancer's choice of currency. Thus Binamite can conduct transactions globally (in all non-sanctioned countries), and with the easy-to-get BTC/ETH/USDC/FIAT, it is truly a global medium of transfer of funds.
The users also invests themselves in the potential upside of holding crypto and enjoy the stability of stablecoin/FIAT at the same time. Crypto payments remove all the hassle from the hands of the freelancers and the client as it automatically helps the user to maintain a portfolio.
Best of all, the clients are charged a fixed fee of 1.9%, while the freelancer can pay out for free in crypto, and at a marginal cost, in FIAT.Binamite does not charge any spread on exchange conversion rates; thus, the value sent and received is according to the existing market conditions, saving you a hidden 2-3% cost charged by other major payment platforms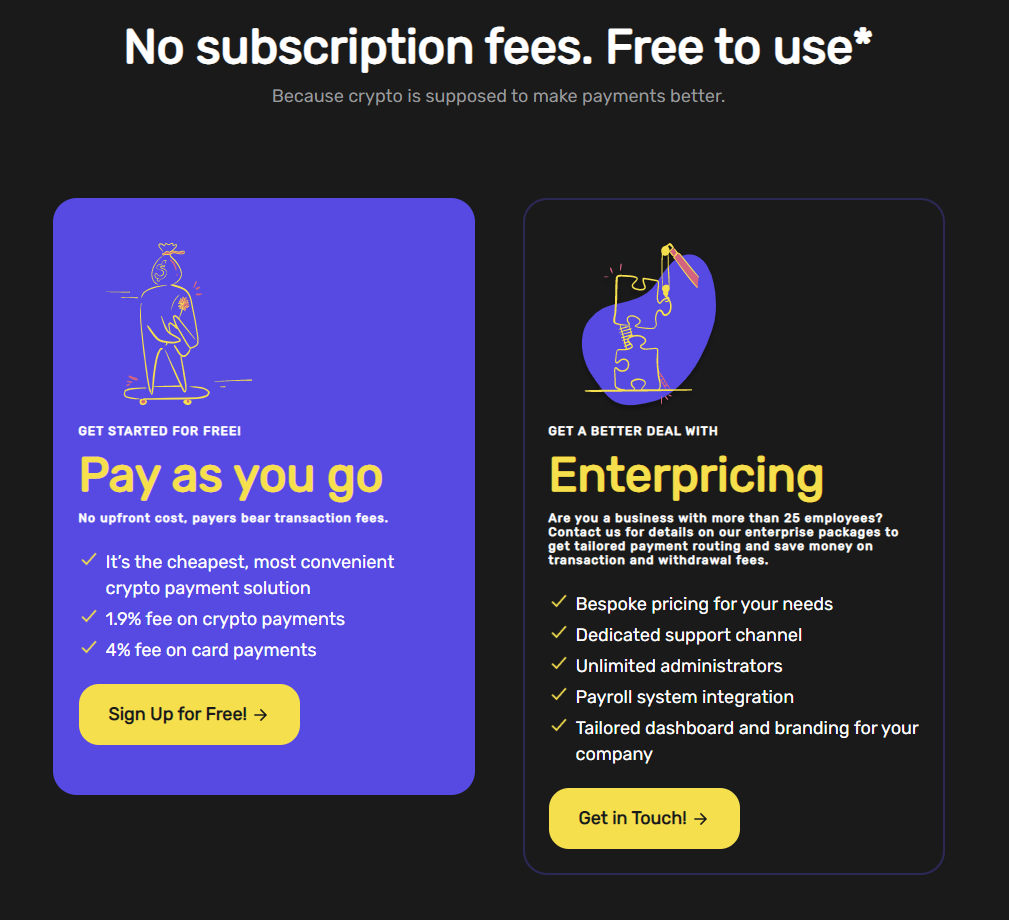 Binamite Pricing Structure

We also understand the possibility of the client being hesitant about crypto payments and insisting on the FIAT-based transaction. Therefore, Binamite allows both parties involved to conduct a regular FIAT-based transaction and the FIAT bank payout takes 3-5 days.
End Note:
We at Binamite are determined to solve the freelancer payment system problem of inefficient international transfers by making them faster and cheaper than ever. We are constantly adding more features to the tool. Please let us know if you have any suggestions by filling out this form.
Some of our previous articles might be of interest to you: