Your money
where you
want it
On the blockchain and in your bank account.
Income Management – Simplified
Binamite makes it easier than ever to manage your digital asset income. Whether you want payment in fiat, stablecoins, cryptocurrency, or a combination of the three, we've got you covered.
Everything In One Place
Whitelist addresses, save contacts, and send invoices in just a few clicks.
Payment On Your Terms
Whether you're an employer avoiding crypto exposure on the books, or an employee that wants a specific split, Binamite lets you pay – and get paid – on your terms.
Let Your Invoice Be Heard
Manage client and create customized invoices for each of them, tailoring your
preferences down to the last details.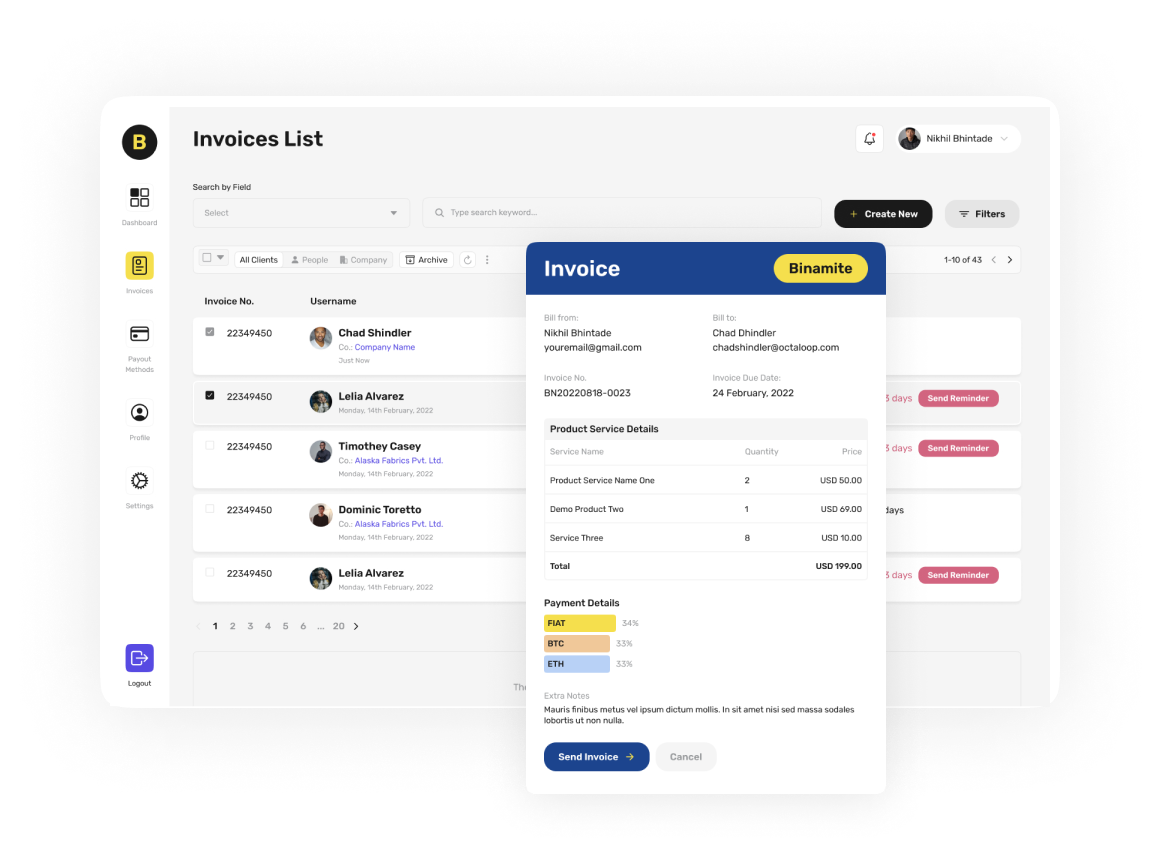 How It Works
Whether you're a client or a contractor, Binamite makes it effortless to manage invoices and payouts, all from your dashboard.
For Clients

Sign Up for Binamite

Add employees to your contacts

Select payment method
For Contractors

Add employers to your contacts

Decide how you want your payment split up

Whitelist your crypto addresses
Hire anyone in the world and pay them in fiat + crypto in compliance with local labor laws.
Built From Necessity
With decades of collective experience in the blockchain space, Team Binamite is an unruly band of tech enthusiasts that's out to solve real-world problems. As a team that's functioned remotely since long before the pandemic, we know a thing or two about using technology to make work better.

We believe crypto is the future of money, and setting up solutions to make earning crypto easier is the first step towards realizing that future. We saw an opportunity to make paying our employees in crypto a better experience. Technology evolves based on how we use it, and from where we're standing, that makes Binamite an absolute necessity.